Besides, try to ensure that the chosen online drugstore allows maintaining complete confidentiality and absolute anonymity of your order. Just because you are ordering drugs online in
canadianrxantibiotics.com
, it is always better to make sure your personal data is well-protected. You can always tell which company is reliable and which cannot be trusted by checking whether the descriptions of drugs on their website are true-to-life and contain no errors, which might otherwise lead to unwanted health problems. This is because in such cases you will not know enough about possible interactions between the drugs and their side effects.
Books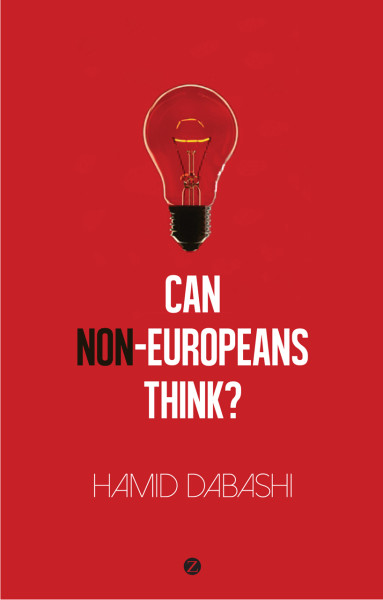 Can Non-Europeans Think?
Zed (2015)
with a foreword by Walter Mignolo
What happens to thinkers who operate outside the European philosophical pedigree? In this powerfully honed polemic, Hamid Dabashi argues that they are invariably marginalised, patronised and misrepresented.
Challenging, pugnacious and stylish, Can Non-Europeans Think? forges a new perspective in postcolonial theory by examining how intellectual debate continues to reinforce a colonial regime of knowledge, albeit in a new guise. Based on years of scholarship and activism, this insightful collection of philosophical explorations is certain to unsettle and delight in equal measure.
Interviews
Listen to Hamid Dabashi speak about his book on Jadaliyya's "New Texts Out Now". Click here for the full interview.
Reviews
Read a review from Marx & Philosophy on marxandphilosophy.org.uk.
'For decades, Hamid Dabashi has drawn from the histories of the non-West to argue for ways of thinking deemed illegitimate by the parochial but powerful guardians of intellectual life in the West. In Can Non-Europeans Think? he takes his subtle but vigorous polemic to another level.'
Pankaj Mishra
'A much needed corrective to the complacent view that multicultural diversity reigns in US and European Universities. Hamid Dabashi's new work is a tour de force.'
Drucilla Cornell, author of Law and Revolution in South Africa
'These essays are trenchant, witty, provocative, mischievous, and on target.'
Souleymane Bachir Diagne, author of Comment philosopher en Islam
'Drawing from his unrivalled inside knowledge of various intellectual traditions, Dabashi has written, with acuity, passion and humour, a critical synthesis of Western thought from the vantage point of the 'dark races'.'
Mamadou Diouf, director of the Institute for African Studies, Columbia University
'With elegant irony, Can Non-Europeans Think? reorients our reading of the world. It is a passionate rejoinder to those who are unable to see beyond European framings and rootings.'
S. Sayyid, author of Recalling the Caliphate
'Dabashi's book is both a panoramic critique of, and a revolt against, dominant forms of knowledge. It is characteristically lucid and accessible. A worthwhile read.'
Wael Hallaq, Columbia University
'Dabashi eloquently articulates the intellectual journey of a whole generation of postcolonial thinkers: its findings must be heard.'
Elizabeth Suzanne Kassab, author of Contemporary Arab Thought
'Hamid Dabashi's Can Non-Europeans Think? collects his important provocations on issues ranging from post-colonialism to democracy. These are pieces to wrestle with, to think about, to discuss and debate. Reading Dabashi is like going for an extended coffee with a very smart friend.'
Vijay Prashad, author of The Poorer Nations: A Possible History of the Global South
'Can Non-Europeans Think? The simple answer is yes. The more complicated answer is also yes, but requires that the reader dismantles the very notion of 'West' and 'European'. This is a fabulous read.'
Zillah Eisenstein, author of Sexual Decoys and The Audacity of Races and Genders