Besides, try to ensure that the chosen online drugstore allows maintaining complete confidentiality and absolute anonymity of your order. Just because you are ordering drugs online in
canadianrxantibiotics.com
, it is always better to make sure your personal data is well-protected. You can always tell which company is reliable and which cannot be trusted by checking whether the descriptions of drugs on their website are true-to-life and contain no errors, which might otherwise lead to unwanted health problems. This is because in such cases you will not know enough about possible interactions between the drugs and their side effects.

Books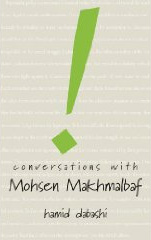 By Hamid Dabashi
Order Now

"Born in Tehran in 1957, filmmaker Mohsen Ostad Ali Makhmalbaf grew up in the religious and politically charged atmosphere of the 1960s, and the June 1963 uprising of Ayatollah Khomeini constitutes one of his earliest memories. In 1972, Makhmalbaf formed his own urban guerrilla group and two years later attacked a police officer, for which he was arrested and jailed. He remained incarcerated until 1978, when the revolutionary wave led by Ayatollah Khomeini freed him and launched his career as a writer and self-taught filmmaker. Since then, Makhmalbaf has gone on to make such highly admired films as Gabbeh and The Silence.
The three lengthy conversations collected here, between Makhmalbaf and leading Iranian film critic and scholar Hamid Dabashi, traverse the filmmaker's experiences as a young radical, his critical stance regarding the current Islamic regime, and his fascination with films — both as product and as process. In this in-depth view of one of the most significant Middle Eastern filmmakers of our time, Makhmalbaf reflects on the relationship between cinema and violence, tolerance, and social change, as well as the political and artistic importance of the autonomy of the filmmaker.