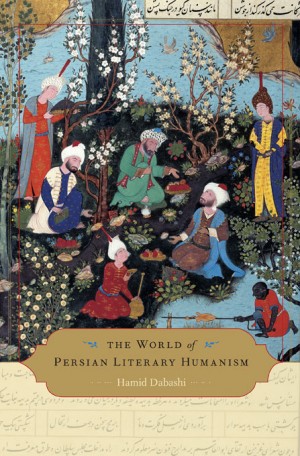 A New Statesman Critics Book of the Year, 2012
What does it mean to be human? Humanism has mostly considered this question from a Western perspective. Through a detailed examination of a vast literary tradition, Hamid Dabashi asks that question anew, from a non-European point of view. The answers are fresh, provocative, and deeply transformative. This groundbreaking study of Persian humanism presents the unfolding of a tradition as the creative and subversive subconscious of Islamic civilization.
Exploring how 1,400 years of Persian literature have taken up the question of what it means to be human, Dabashi proposes that the literary subconscious of a civilization may also be the undoing of its repressive measures. This could account for the masculinist hostility of the early Arab conquest that accused Persian culture of effeminate delicacy and sexual misconduct, and later of scientific and philosophical inaccuracy. As the designated feminine subconscious of a decidedly masculinist civilization, Persian literary humanism speaks from a hidden and defiant vantage point—and this is what inclines it toward creative subversion.
Arising neither despite nor because of Islam, Persian literary humanism was the artistic manifestation of a cosmopolitan urbanism that emerged in the aftermath of the seventh-century Muslim conquest. Removed from the language of scripture and scholasticism, Persian literary humanism occupies a distinct universe of moral obligations in which "a judicious lie," as the thirteenth-century poet Sheykh Mosleh al-Din Sa'di writes, "is better than a seditious truth."
"In The World of Persian Literary Humanism, Hamid Dabashi revealed, with his usual brilliance, yet more aspects of a sophisticated culture to an Anglophone readership."—Pankaj Mishra, New Statesman
"Dabashi's effortless, capacious erudition is obvious all throughout. Even his offhand comments about Ferdowsi's Shahnameh or Muhammad Iqbal's Asrar-e Khodi (and dozens of other canonical Persian works) are uniformly brilliant."—Steve Donoghue, Open Letters Monthly
"This is a study of profound erudition, deep historical and literary knowledge, and professional acumen. Dabashi marshals an impressive amount of historical material blended into a wide historical narrative."—Arshin Adib-Moghaddam
"In this fascinating study of the metaphysical concerns of Persian literature, Dabashi presents Persian adab as a movement heretical to the ideological dispositions of Islamic empires. He traces the morality that informs the adab of the Persian language, and shows how a sustained history of a millennium and a half created an amorphous literary subconscious that remained irreducible to any religious identity. A landmark work that shall nurture all future discourse on the subject."—Musharraf Ali Farooqi
"Dabashi is one of the world's most well-versed and learned scholars of Persian history and culture, and this book could only be written by someone of his intellectual stature who shows a mastery of Persian literature over a thousand years. His creative and engaging narrative carries the reader through a literary odyssey of great geographic breadth and skillful analysis."—Firoozeh Kashani-Sabet, University of Pennsylvania
"Elegant as well as passionate, Hamid Dabashi's scholarly writings always have a revelatory quality. Yet again he uncovers, in his new book, an astonishing new world for English readers."—Pankaj Mishra
"In this powerfully challenging book, Hamid Dabashi not only pays tribute to the achievements of such great Persian writers as Ferdowsi and Sa'di, who expressed a subversively humanistic vision in counterpoint to the transcendental Islamic scholasticism of the past, but he also shines his intellectual spotlight on influential occidental thinkers ranging from Kant to Said, whose humanism, whether philosophical or literary, fell short of true universality. In a masterful critique of the Eurocentrism he sees as being present, if masked, in the teaching of Comparative Literature, he rescues Persian literature from the 'overextended narratives of Orientalism and ethnic nationalism' and shows how its vibrant aesthetic and spiritual qualities find expression in the work of contemporary writers, filmmakers, and artists. This important work of cultural history has urgent contemporary relevance."—Malise Ruthven
"Mr. Dabashi provides a rich and varied account of classical Persian literature. Such commanding figures as Ferdowsi, the 11th century poet of the "Shahnameh," or Book of Kings, one of the world's great epics, stand alongside the mystical lyrical poets Hafiz and Rumi, as well as the earthier Sa'di. It is one of Mr. Dabashi's accomplishments to demonstrate the unusual continuity of the Persian literary tradition which, despite political upheavals and stylistic revolutions—free verse is the norm in contemporary Persian poetry—remains strong even in the teeth of brutal governmental repression."—Eric Ormsby, The Wall Street Journal
"Persian Literary Humanism arrives as a sort of remedy for the fears and anxieties manufactured by these weaponised, militarised, imperial forces … Persian Literary Humanism not only maps out the production and formation of Persian adab from within the spaces and regions from which it grew, but is also in conversation with European and American cultural critics like Theodor Adorno and Fredric Jameson. Even Edward Said comes in for some disapproval from Dabashi, and it's a testament to Dabashi's capacity for generous and thoughtful criticism—if he feels one is deserving of it, that is—that even a loyal member of Team Edward such as myself finds his criticism of Said not entirely unfamiliar but provocative and useful, a jumping-off point for further thoughts on decolonising literary studies."—Subashini Navaratnam, www.PopMatters.com