Books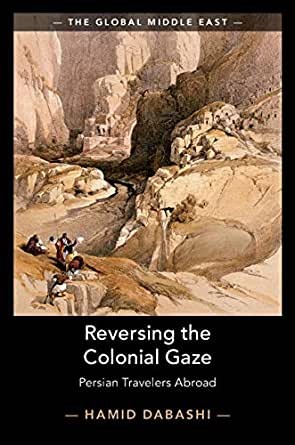 Cambridge University Press, 2020
Order Now

The official page on Cambridge University Press:
https://www.cambridge.org/core/books/reversing-the-colonial-gaze/A0EB55FA159E03E8E54A8671A5E0FED8
Exploring the furthest reaches of the globe, Persian travelers from Iran and India travelled across Russian and Ottoman territories, to Asia, Africa, North and South America, Europe and beyond. Remapping the world through their travelogues, Reversing the Colonial Gaze offers a comprehensive and transformative analysis of the journeys of over a dozen of these nineteenth-century Persian travelers. By moving beyond the dominant Eurocentric perspectives on travel narratives, Hamid Dabashi works to reverse the colonial gaze which has thus far been cast upon these rich body of travelogues. His lyrical and engaging re-evaluation of these journeys, complimented by close-readings of seminal travelogues, challenges the systematic neglect of these narratives in scholarly literature. Opening up the entirety of these overlooked or abused travelogues, Dabashi reveals not a mere repetition of cliché accounts of Iranian or Muslim encounters with the West, but a path-breaking introduction to a constellation of revelatory travel narratives that re-imagine and reclaim the world beyond colonial borders.
Reviews
"In a series of fascinating vignettes, Dabashi gives us an enormously rich account of travelers from Iran and India who ethnographically recorded other cultures in Asia, Africa and Europe in the nineteenth century. In the process, he forcefully reminds us that the intellectual discovery of the world was not a uniquely Western virtue."  Partha Chatterjee, Columbia University

"Offering us fascinating readings of Iranian and Indian travelogues, Dabashi charts out new spatial relationships, demonstrating how these writers created a global Persianate universe, which was typified by a mixture of literary and cultural traditions. The book celebrates and analyzes these creative worlds, reconstructing a rich tradition, which can serve as a much-needed antidote to narratives of origin and supremacy."  Lior Sternfeld, Pennsylvania State University

"Via this rich exploration of hitherto little-studied examples of travel literature in Persian, Dabashi not only provides a framework for understanding a crucial transition period in the history of Iran in a global context, but also offers refreshing insights into ongoing debates on modernity and the role of orientalism." Gabrielle van den Berg, Universiteit Leiden