Books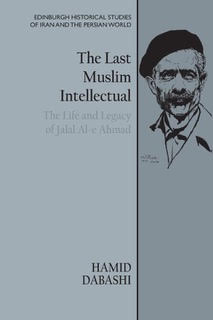 (Edinburgh University Press, 2021)
Order Now

Official Page on Edinburgh University press
https://edinburghuniversitypress.com/book-the-last-muslim-intellectual.html
The first comprehensive social and intellectual biography of Jalal Al-e AhmadThis book explores the life and legacy of Jalal Al-e Ahmad (1923–69) – arguably the most prominent Iranian public intellectual of his time – and contends that he was the last Muslim intellectual to have articulated a vision of Muslim worldly cosmopolitanism, before the militant Islamism of the last half a century degenerated into sectarian politics and intellectual alienation from the world at large. Hamid Dabashi places Al-e Ahmad beside other towering critical thinkers of his time, showing how he personified a state of Muslim anticolonial modernity that has now disappeared behind the smokescreen of sectarian politics. This unprecedented engagement with Al-e Ahmad's life and legacy is a prelude to what Dabashi calls a 'post-Islamist Liberation Theology'. The Last Muslim Intellectual is about expanding the wide spectrum of anticolonial thinking beyond its established canonicity and adding a critical Muslim thinker to it – an urgent task, if the future of Muslim critical thinking is to be considered in liberated terms beyond the dead-end of its current sectarian predicament. Key Features• A full social and intellectual biography of Jalal Al-e Ahmad, a seminal Muslim public intellectual of the mid-20th century• Places Al-e Ahmad's writing and activities alongside other influential anticolonial thinkers of his time, including Frantz Fanon, Aimé Césaire and Edward Said• Chapters cover Jalal Al-e Ahmad's intellectual and political life; his relationship with his wife, the novelist Simin Daneshvar; his essays; his fiction; his travel writing; his translations; and his legacy
Hamid Dabashi is Hagop Kevorkian Professor of Iranian Studies and Comparative Literature at Columbia University in New York. He is the author of many books and articles on the social and intellectual history of Islam, both medieval and modern, many of them translated into other languages. He is a globally recognized critical thinker on contemporary affairs and a regular columnist for Aljazeera.
ADVANCE PRAISE:
Hamid Dabashi's remarkable work on Iranian 'cosmopolitan humanism' has already expanded the parameters of discussions on non-western thought to highlight the quest for an anticolonial modernity as integral to its global reach. In this well-balanced and elegantly written volume, Dabashi treats Al-e Ahmad, a preeminent intellectual of his time, as a pioneering -anticolonial theorist who Islamist thinkers, such as Ali Shari'ati, would only later develop an elective affinity for, in the process recasting him an anti-western nativist. Dabashi situates Al-e Ahmad alongside other anticolonial thinkers to remind us that "Al-e Ahmad could not have anticipated Shari'ati would have taken him all the way to the borderlines of a committed Islamist ideologue." Along the way, this provocative work raises important questions about the evolution of an anticolonial canon and the crystallization of sectarian divisions.
– Ali Mirsepassi, Albert Gallatin Research Excellence Professor, New York University
In prose crackling with an urgency and tenor reminiscent of Jalal Al-e Ahmad's own style in Persian, Hamid Dabashi delivers an impassioned argument for reading Al-e Ahmad as the last cosmopolitan Muslim intellectual on a par with the likes of Césaire and Fanon.
– Nasrin Rahimieh, Howard Baskervile Professor of Humanities, UC Irvine